In the previous article, we discussed how to choose a great domain name. Now, we'll discuss how you can get hosting worthy of the awesome domain name that you picked!
While your domain name is the face of your website, your hosting is no less important. Quality hosting ensures that your site loads quickly for your visitors and is always available.
Those are essential elements of any website. I mean, think about when you browse the web. Do you enjoy browsing sites that take forever to load? Most people don't, and the numbers back that up.
So just because your visitors won't "see" your host, that doesn't mean your host isn't important.
In this article, we'll first discuss the basic things to consider when choosing a host. Then, we'll show you a tool we built specifically to help you find the best WordPress hosting.
What to Consider When Choosing WordPress Hosting
Here are some key factors to consider as you make your hosting choice. Reading through them, we know you might feel a little overwhelmed. That's why, at the end, we'll give you a quick tour of our Hosting Finder tool so that you can quickly sort through hosts to find those that best meet your needs.
Decide Between Shared and Managed WordPress Hosting
There are two types of WordPress hosting you'll run into:
Shared WordPress Hosting – Often referred to simply as "WordPress hosting", shared WordPress hosting is affordable, but lacking in features when compared with managed WordPress hosting. While it might include a few WordPress-specific tweaks, that's typically all you get for your money.
The main attraction of shared WordPress hosting is its price. With promotional pricing, you can pay as little as $4 per month to host your WordPress site.
Managed WordPress Hosting – Always referred to by its "managed" designation, managed WordPress hosting is concierge hosting. It's packed with features to make your life easier. Normally, that means things like added security, built-in caching for faster page load times, automatic backups, amazing support, and lots, lots more.
Managed WordPress hosting costs more in monetary terms, but all its added features save you a ton of time and hassle compared to shared hosting.
If money is your absolute highest priority, you're totally fine to go with cheap shared hosting at the start. But if you want the smoothest, most pleasant experience, you might want to consider paying for managed WordPress hosting.
Consider Your Host's Performance
Hosting performance can be broken down into two key metrics:
Speed: This is literally how fast your host loads up your site. The speed of your site depends on things like the hardware your server is using and where your server is located. You want to pick a fast host.
Uptime: Uptime is the percentage of time your website is actually available. See, sometimes web hosts go down. And when that happens, your site isn't available. With reliable web hosts, this should pretty much never happen. You want to aim for a host that has uptime of at least 99.9%. That means, on average, your site is unavailable less than 0.1% of the time.
Unfortunately, most hosts won't publish real testing data for these metrics. That's why we created our Hosting Finder tool. We actually set up test accounts at all the popular hosts to find out exactly how each host performed (more on that at the end!).
We recommend you always try to find real testing data before making a decision about a host. The hosting industry is rife with fake and padded reviews, but the numbers don't lie.
Find a Host With Good Support
No matter which host you choose, you're absolutely going to hit a point where you need help from a human.
Here are some factors to consider:
Support Hours – many hosts offer 24/7 support. But not all. So always double check when your chosen host's support is available.
Support Channels – some hosts only offer support through email or tickets. Some offer live chat. Some offer phone support. And the best hosts offer all three methods.
In our Hosting Finder tool, we clearly lay out the support availability for all the hosts that we tested.
Watch Out For Promotional Pricing
Promotional pricing is a widespread practice in the budget hosting industry. And it, unfortunately, traps far too many people building their first website.
See, most hosts will advertise their prices like this: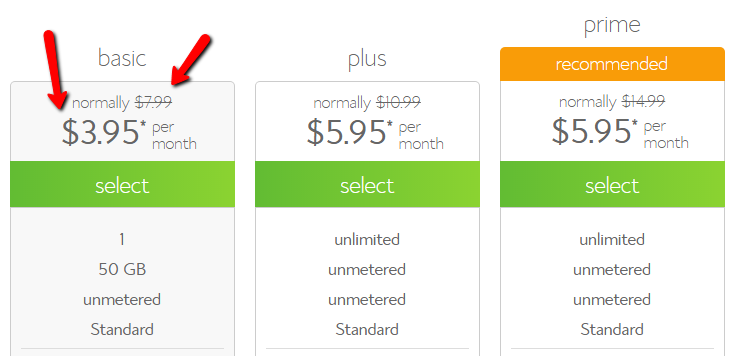 And most beginners logically take that to mean that they'll only pay $3.95 per month forever.
But here's the truth:
That price only applies to your first billing cycle. And it's usually only if you make a massive commitment, like paying for 3 years of hosting upfront. So you need to always read the fine print.
Promotional pricing isn't all bad. You are saving money compared to the regular price. But you need to always remember that the listed price is not permanent. We don't want you to be surprised when your second billing cycle comes and the price jumps up.
So, when you're comparing prices between hosts, you should make sure to compare the real prices, not the promotional prices. Because the real price is what you'll be paying after your first billing cycle.
How to Use Our Hosting Finder Tool To Simplify The Process
As you can tell, there's a lot that goes into picking a quality host. As people who have created tons of websites ourselves, we know that. That's why we created our Hosting Finder tool.
Our Hosting Finder tool provides you with real testing data so that you can make an informed decision when choosing your host. And best of all, we actually provide beginner-friendly context for that data. Because spitting data at you isn't much use if you don't know what it means, right?
Our Hosting Finder includes both shared and managed WordPress hosts. So no matter what your budget is, you can find a host that gives you the best service at the price you're willing to pay.
Here's a quick tutorial on how to use our Hosting Finder:
First, head over to our Hosting Finder tool. Then, you can either browse the full list of hosts, or you can enter criteria to filter only those hosts which meet your needs:

Once you find a host that you're interested in, you can click on it to view statistics from our real testing data, as well as how it compares to other hosts, and our full text review:
We provide you with all the context you need to understand how the testing data compares to the other hosts that we tested.
Then, when you find a host that you're happy with, just click Get This Hosting to go to the host and sign up.
What To Do When You Purchase Hosting
Once you find a web host that meets your needs, you need to do three things:
Sign up for the host and get access to your account.
Point your domain to your new host's Nameservers (only if you purchased your domain name through a third-party registrar). Most hosts will give you these details in your welcome email.
Install WordPress and get started!
Once you're ready to move on, click to read our next guide where we'll take you step-by-step through how to install WordPress.