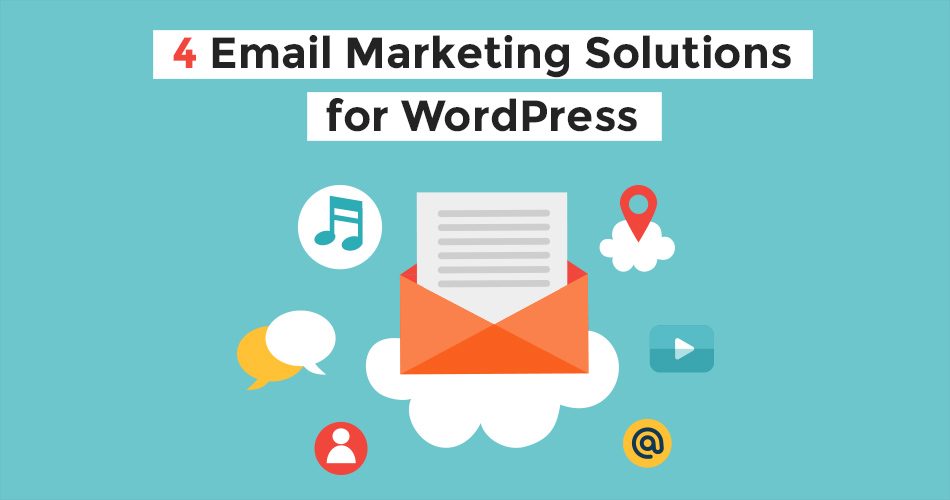 Keeping your brand competitive gets harder every day. A regular user may visit dozens of sites during a single session, and yours needs to compete against all of them for attention. How exactly do you achieve this without a massive advertising budget?
The answer is simple – through emails. The humble email has been around in one way or another since the 1960s, and over five decades later it remains both an excellent way to communicate, and a fantastic marketing tool. If you play your cards right, an email marketing campaign can increase your conversions – and improve your bottom line – over the long term.
In this article, we won't be teaching you how to run a marketing campaign, since thousands of words have already been written on the subject. Instead, we'll focus on the four best tools that you can employ to launch a campaign, and improve your conversions.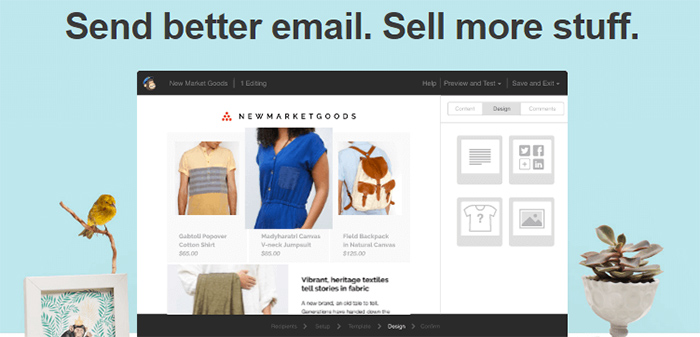 MailChimp is an email marketing tool that enables users to design and send newsletters, as well as sign users up to mailing lists. The company was founded in 2001, and since then it's amassed a user base of over 12 million customers. On top of its basic newsletter capabilities, you can also send automated messages and targeted campaigns.
Features
MailChimp is ready for integration with most major e-commerce platforms, including Shopify, Magento, WooCommerce, and BigCommerce.
It includes an intuitive template system, which enables users to quickly design winning campaigns.
Your campaigns can be set to autopilot through the platform's marketing automation system.
MailChimp includes a robust analytics and reporting system, to help you to stay on top of your campaign's performance.
There are a host of mobile apps available, enabling you to monitor your campaigns at all times.
Pricing
MailChimp offers a free plan for users who have less than 2,000 subscribers, and who send up to 12,000 emails per month. Premium plans start at $20 per month.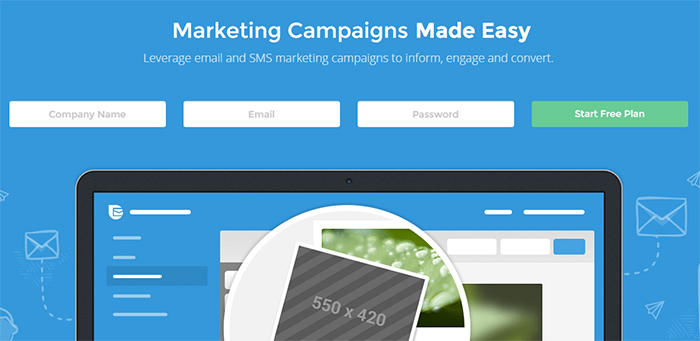 SendinBlue may not be as popular as MailChimp, but it's no slouch when it comes to email marketing – after all, it's the proud home of over 20,000 users who send more than 30,000,000 emails per day.
Using SendinBlue to design a newsletter is a straightforward process – you can choose a template from their gallery, or use their drag-and-drop builder to create a unique and mobile-friendly layout.
Furthermore, you can preview how each campaign will look on various interfaces to optimize them accordingly, which is a definite plus point.
Features
Campaigns are designed using a simple drag-and-drop interface, with multiple base templates available.
SendinBlue enables you to personalize your campaigns by including personal details and preferences for each user.
You have the ability to share your campaigns via social media.
There's the option to also send marketing text messages via the platform.
SendinBlue is ready for integration with PrestaShop, WordPress, and Magento right out of the box.
Pricing
SendinBlue's free plan enables you to send up to 9,000 emails per month to an unlimited number of subscribers. Premium plans start at $7.37 per month, which removes the daily sending limit for your campaigns.

Sendy is entirely different from the previous entries on this list. For one, it's not a separate platform, but rather a self-hosted application that works on top of Amazon's Simple Email Service (SES). Secondly, it's insanely cheap – sending approximately 10,000 emails via Sendy will only cost you around $1 according to their calculations.
All of this is made possible by Amazon SES, which is part of the Amazon Web Services suite. Once you've set Sendy up, you'll discover it includes just as many features as MailChimp and SendinBlue.
Features
Sendy enables you to handle multiple brands simultaneously.
Every campaign generates a detailed report including clicks, bounces, and complaints.
You can follow up with your subscribers through an autoresponder.
Sendy enables you to white label its services and offer them to your clients.
Pricing
Sendy is available for a one-time fee of $59. Purchasing the product also gives you free reign to set up your own email marketing business using the software.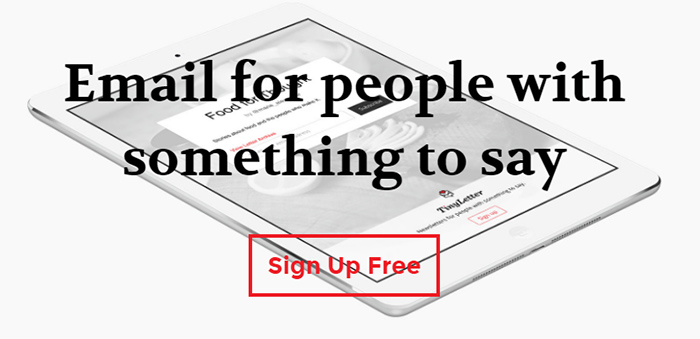 If all you're interested in is creating simple, no-nonsense email campaigns, TinyLetter is the tool for you. This service is a secondary project by the team over at MailChimp, who wanted to design a simple platform for those who didn't require any complicated functionality.
Along with its streamlined approach, TinyLetter offers a more intimate email marketing experience by enabling you to respond directly to customer replies, all from a dedicated dashboard – potentially keeping the conversation going long after your initial mailout.
Features
The lack of reporting features makes it a sensible choice for personal campaigns.
TinyLetter includes a distraction-free designer for text-only newsletters.
You can reply directly to your readers from a dedicated dashboard.
TinyLetter provides a simple user sign up process for your newsletters.
You can send campaigns directly from your email client.
Pricing
TinyLetter is 100% free.
Conclusion
Picking the right email marketing tool is only the first step on your email marketing journey. To succeed, you'll need to look into what makes a successful campaign, and which pitfalls you need to avoid. With a little hard work, your conversions should skyrocket!
Let's take another look at the four tools we mentioned earlier, just in case you're still unsure which one is right for you:
What's your favorite email marketing tool? Share your pick with us in the comments section below!