Even the most minimalistic of websites needs a well placed image or two in order to enhance your design, but hunting online for free (and legal!) images to use on your projects can be quite a headache.
Fortunately, there are plenty of sites out there offering thousands of free stock images for you to use on your WordPress websites, with no restrictions.
In this post, we've compiled a list of six of our favorite sources – you might even recognize some of the featured images from our blog! However, before we dive into the freebies, let's take a brief look at everything you need to know about image rights and Creative Commons licenses.
Everything You Need to Know About Image Rights

The system that defines how creative works can be legally used is referred to as Creative Commons, and there are four types of licensing conditions available to content creators:
Attribution: This specifies whether others must give you credit for using your work.
ShareAlike: This licensing condition sets how your work should be distributed, and whether it can be modified.
NonCommercial: Under this condition, other individuals may make use of your work in any capacity they wish as long as it's not for commercial purposes.
NoDerivatives: This condition restricts the use of your work only to its original form, meaning users can't make any modifications to it without your permission.
The Creative Commons Zero (CC0) license is your best friend when it comes to looking for free stock images online. All works that fall under this license are free to use however you like – with or without modifications, for both commercial and noncommercial purposes, and without making any attribution. Still, we'd recommend that you always attribute the original creator whenever possible as a matter of good practice.
Most sites below make all of their images available under a CC0 license, except Pixabay and Visual Hunt, which also include some (clearly identified) results from third party websites. Let's take a look!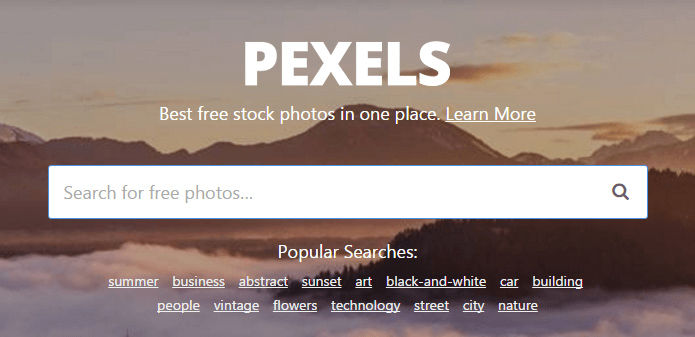 Pexels is a popular site hosting a collection of over 10,000 free stock images. The site is updated each and every day with 50 new photos, and you can browse their entire collection according to categories, tags, and even colors.
The Pexels team work hard to curate their collection, which is made up of both sourced images that fall under a CC0 license from other sites, and user-submitted content that's vetted before being added.
Pixabay is the proud home of over 680,000 free stock images and other media, divided into photos, illustrations, and vector graphics. The site is mainly made up from user-submitted content, which must adhere to strict quality guidelines to make it onto the site.
Although all of the images hosted on the site fall under the CC0 license, their search results also include some sponsored Shutterstock images, which bear their logo for easy recognition.
3. Unsplash

Unlike our previous picks, the Unsplash collection isn't about the numbers at all. Firstly, it doesn't advertise how many photos it hosts in total, and secondly they're famous for their short, curated emails.
While you could certainly undertake an image hunt on their website, by subscribing you get an email containing ten great CC0 licensed photographs, handpicked by a team of professionals, every ten days.

Continuing our trend of smaller sources, MMT Stock is a one-man operation ran by Jeffrey Betts. Jeffrey has been updating his collection weekly for years, and every single image on his website falls under the CC0 license.
Although the MMT collection may not be that big, it is well organized. Each image is categorized according to a system of 40 categories, some of which are vague (such as Technology), while others are more focused and specialized such as Workspaces.
As we mentioned earlier, Visual Hunt is the only source in this list with a catalog that isn't completely CC0 licensed. Their collection spans over 350,000,000 images licensed under Creative Commons, of which only approximately 60,000 are CC0.
Although this may seem like a small number, you can fine tune your searches to display only the CC0 listings by choosing the Public Domain option when searching.
Last but not least, Startup Stock Photos is a very minimalist site dedicated solely to providing images that wouldn't look out of place in a Silicon Valley brochure.
Most of the images are of people using devices in various settings such as coffee shops and offices, and while the variety is small, it's a fantastic place to look for tech-related pictures.
Overall, Startup Stock Photos is only probably going to supplement the images you find elsewhere – but with a user base including websites such as Mashable, Forbes, and The Chive, you'll be in good company.
Conclusion
Making good use of images can elevate your website's design to an entirely new level, and there's no excuse not to look for the best content when so much of it is available for free.
In this article, we've presented six of the very best resources out there for finding completely free stock images. Let's recap:
Do you have your own favorite free stock photos site? Share it with us in the comments section below!