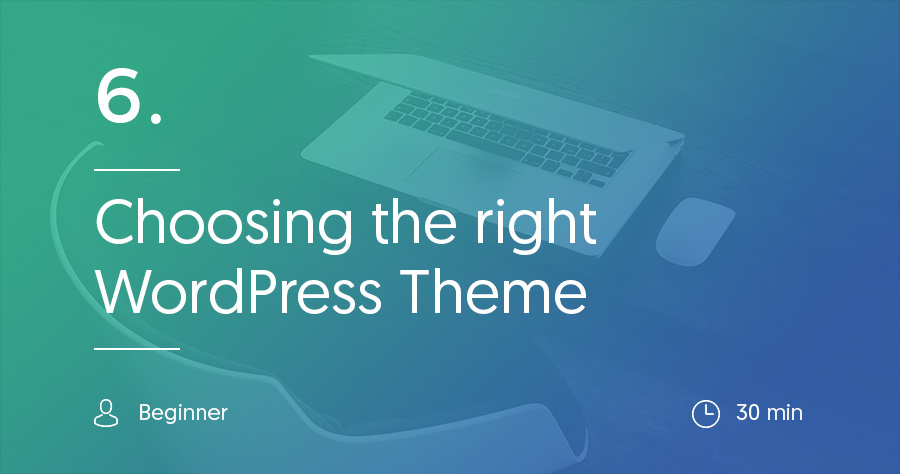 Now that you've got WordPress installed, you're ready for the most difficult decision you'll face:
Choosing a theme.
Ok, that's a bit of hyperbole. Choosing a theme isn't difficult conceptually. But if you're a design perfectionist, it can feel like a major undertaking to sort through thousands of themes to find the one that's perfect for your site.
But don't worry – just like with domains and hosting, we created a tool that can help simplify the process of picking a theme. We'll tell you a bit more about that at the end of the post. But first, let's cover the basics of WordPress themes.
What Is a WordPress Theme?
If you've been following our WordPress tutorial from the beginning, you probably remember that themes are a key element of any WordPress site. Basically, your theme determines how your site appears to the outside world.
Themes are also important because, in conjunction with plugins, they can determine how your WordPress site functions. Let me give you a few examples of what I mean:
If you're creating a website for your restaurant, you'll want to pick a theme dedicated to restaurants. Why? Because that theme will have a built in method to display your menu, location, and opening hours.
But if, on the other hand, you just want to create a basic blog, you'll want to find a theme dedicated to blogging for the same reasons.
Nowadays, many WordPress themes are tagged as "multipurpose". That means they're versatile and can be used for a variety of different topics.
Do WordPress Themes Cost Money?
Yes and no. There are thousands of free WordPress themes out there. And there are also thousands of premium themes. As we said…you're spoiled for choice.
So should you pick a free theme or a premium theme?
We can't answer that 100% because the final choice depends on your budget. So instead of giving you a hard answer, we'll lay out some of the differences between the two and give you a suggestion.
Free themes are usually free for a reason. That is, they often lack polished designs and user friendly customization options. But if you just want a minimalist blog theme, you might be able to skate by with a free theme.
The best place to find free themes is the wordpress.org theme directory.
On the other hand, quality premium themes typically have the most beautiful designs and come packed with detailed theme settings to let you easily customize the theme without needing to know any code.
There's no single place to find premium WordPress themes, but a good starting point is ThemeForest. You can also use our Theme Finder tool to sort through thousands of available themes.
Basically, as with most things in life, you get what you pay for. You can use a free theme for your site, but you will be missing out on the helpful features offered by most premium themes.
What To Consider When Choosing Your WordPress Theme
As with hosting, there are definitely some things you want to consider before settling on a WordPress theme.
Pick the Right Theme Style
We touched on this above, but WordPress themes come in a few different styles. Here are a few of the most common styles of WordPress themes:
Standard blog: These types of themes are what most people think of when they hear the term "blog". For example:
Magazine: More focused on eye-catching imagery. Blog posts are typically featured in a grid rather than a list. For example:
Business: These themes feature a static homepage and are designed more for regular websites than blogs. For example:
On top of these basic styles, you'll also find themes designed for specific niches. For example, you could have a standard blog theme focused on food. Or a business theme focused exclusively on creating a law firm website.
As we said, there are a lot of options out there. And when you're choosing your theme, you might well feel like Goldilocks. This one's too blue, that one's too minimalist…but we promise you, there is a theme out there that's perfect for your site!
Choose an Updated Theme From a Trustworthy Author
In addition to fitting your site's style, you also want your theme to be reliable. Here are two ways to ensure you're choosing a quality theme:
Look at the author ratings – most theme directories list both the author and the author's ratings. Try to pick themes which come from an author with a record of highly-rated themes.
Check the "last updated" date – similarly, most theme directories will tell you when a theme was last updated. Because the WordPress software is constantly getting updated, you want a theme which has been updated along the way. So if a theme hasn't been updated since 2013, you should definitely skip it. Our Theme Finder includes the "last updated" date to make this easy for you.
Make Sure Your Theme Is Built for Performance
Lastly, you also want to pick a theme that's well-coded and ready to load quickly. Some themes are bloated and inefficiently coded, which means that no matter how good your hosting is, your site will always run slow.
Read the next section to learn how you can assess a theme's performance.
How Can You Figure Out All Of These Things Before Choosing a Theme?
Look, we know that following all of the criteria we listed out above is complicated.
That's why we created our Theme Finder tool. It collects and parses all of this data for you so that you can quickly cut through a jungle of themes to find your El Dorado.
For example, say you want to search for a theme that's:
Magazine style
Recently updated
Trustworthy author
Optimized for performance
You could quickly filter by style, update date, and Google PageSpeed Insights score to find a theme that meets all of those criteria: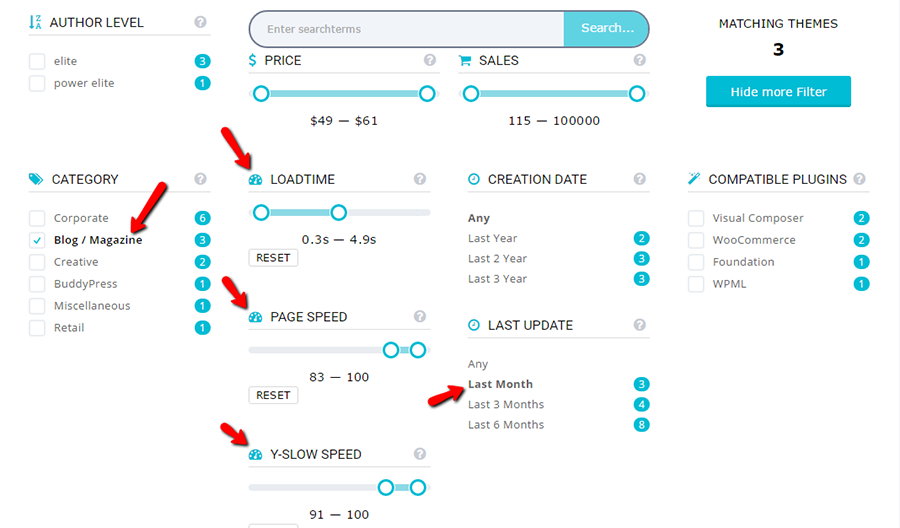 You can play around with a variety of filters to find the perfect theme without spending hours clicking through theme listings.
Currently, we've sorted through over 9,000 different themes, so chances are we've got something you're interested in.
So head on over to our Theme Finder tool, find your perfect theme, and then head to the next article in our guide to learn how to install and customize whichever WordPress theme you chose.