Over the last couple articles, we've talked about some ways in which you can get more visitors to your website (SEO), as well as how you can make your visitors happier when they're browsing around your site (by improving your site's performance).
Now, we're going to get into a topic that helps you understand how effective those efforts have been. In this article, we'll talk about how to track your visitor statistics using Google Analytics and Google Search Console so you can learn more about how people arrive at and use your site.
At the end of the article, we'll discuss a few other monitoring tools that you should also consider using.
Why You Should Track Visitors to Your WordPress Site
Let's get one thing straight – we're not suggesting anything nefarious here. You aren't going to become an NSA-affiliate by tracking your website visitors, and everything we suggest is standard practice.
Tracking your visitors helps you create a better website. Here are some reasons why:
You can figure out which of your pages are the most popular, so you can create more content like the content you know is already successful.
And you can also determine which of your pages aren't performing quite as well. That way, you can improve those pages to better help your visitors.
Beyond that, you can also learn important details about how people behave. These insights include:
How long an average visitor spends on your website (this is called Avg. Session Duration)
How often a visitor leaves your website without looking at a second page (this is called your Bounce Rate).
What "path" most of your visitors use to navigate through your site (this is known as Behavior Flow).
All these insights are essential for monitoring where you're successful and where you need to improve.
How to Track Analytics on WordPress With Google Analytics
To track these insights, the most popular tool is Google Analytics, which, as you might be able to guess, is developed by Google. It's 100% free and offers a huge number of insights.
The easiest way to set up Google Analytics tracking on WordPress is by installing a plugin. We recommend Analytics Cat because it:
Doesn't cost a penny.
Helps you add the Google Analytics tracking code to WordPress.
Doesn't add any bloat.
To use it, start by installing and activating the plugin. Then, you can go to Settings → Google Analytics Manager:
There, you'll need to enter your Google Analytics ID. To get your Google Analytics ID, you need to sign up for a Google Analytics account. Once you go through the setup process and add your site, Google should show you your Analytics ID.
If not, you can always find it by going to Admin → Tracking Info → Tracking Code:
Just enter that ID (starting with UA-) into Analytics Cat and Google Analytics will start tracking your traffic!
How to View Traffic Reports With Google Analytics
Google Analytics includes an overwhelming number of reports. If you're just an average WordPress user, you'll only need to use a fraction of these reports.
Here are some of the most helpful:
Audience Overview – you can access it by going to Audience → Overview. It gives you a quick look at how many people visited your site, as well as your bounce rate, time on site, and whether your visitors are new or returning.
Acquisition Overview – you can access it by going to Acquisition → Overview. It tells you where your visitors came from. E.g. if they came from Google search, or social media, or another website.
Popular Pages – you can access it by going to Behavior → Site Content → All Pages. It shows you which specific pages on your site are the most popular: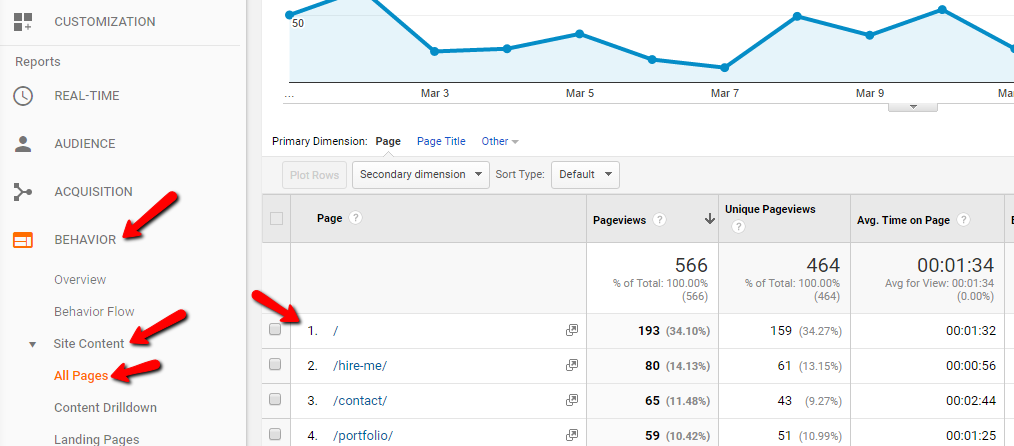 Behavior Flow – you can access it by going to Behavior → Behavior Flow. It gives you a graphical view of how people "flow", or navigate, through your site:
As we mentioned, there are tons more reports available. So we recommend browsing through everything. It's very interesting!
Google Search Console
Google Search Console is another tool from Google. Rather than focusing on visitors, Google Search Console is more focused on monitoring how Google treats your site in the search results.
In addition to a few advanced things like sitemaps and crawl rates, the most useful feature of Google Search Console is the ability to track the specific Google search queries that lead people to your site.
To sign up for Google Search Console, you need to head here and add your URL.
You'll need to verify your ownership of the URL, but if you've already added your website to Google Analytics, you can automatically verify your ownership through your Google Analytics account.
Then, you can monitor the search queries for your site by going to Site Traffic → Search Analytics.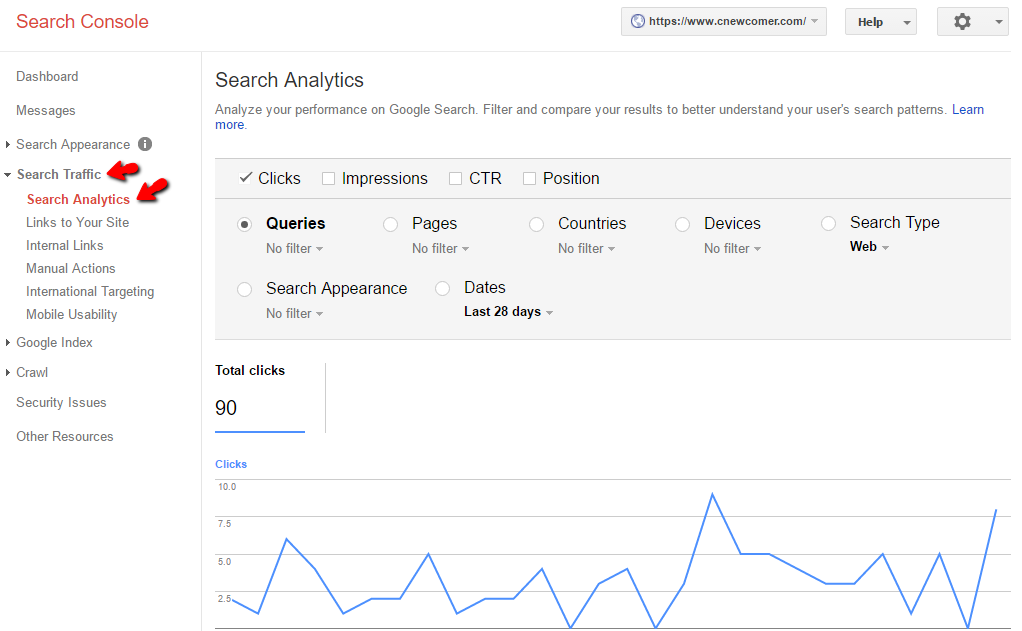 You should also add your sitemap to Google Search Console to help Google navigate your website better. Assuming you followed our recommendation to install Yoast SEO, you should already have a sitemap. Just go to "yourdomain.com/sitemap.xml". You should see something like this: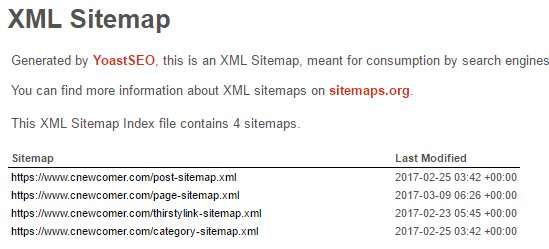 Then, add that link to Google Search Console by following the prompts:
Other Tools to Monitor Your WordPress Site
No matter what, you should absolutely set up and use both Google Analytics and Google Search Console. The rest of these tools are optional, but still worth checking out because they can provide invaluable insights as your site grows in popularity.
Inspectlet
Inspectlet lets you watch live recordings of how visitors browse your website. Why is this important? Because it helps you understand how people actually use your site so that you can pinpoint confusing areas and push readers towards the areas you want them to see.
Best of all, they have a free version that should work for the vast majority of WordPress users…at least until you start getting hundreds of thousands of visitors per month.
Uptime Robot
Uptime Robot helps you understand how reliable your web host is by constantly measuring whether or not your site is available. This number, expressed as a percentage, is your uptime.
We tracked uptime for all of the hosts in our Hosting Finder tool so that you can have a benchmark to compare against (and maybe a reason to switch hosts). If your host's uptime percentage is below 99.9%, you might want to consider switching to a more reliable host.
SEO Tracker Tools
SEO tracker tools help you monitor your site's positions in the search engine rankings. They're helpful for understanding where your site currently ranks and whether your site is improving or not.
There are a number of tools out there, all at varying price points.
For an affordable SEO tracker, we recommend SerpBook.
For more premium options, these tools are great, but more expensive:
The premium tools go beyond mere rank tracking and also help you research your competition and keywords.
And that wraps up our guide for monitoring your own WordPress site. Next, in our final article of this getting started guide, we'll get into a whole range of ways in which you can monetize your WordPress site.
Because, as fun as creating websites is, making money from websites is even more fun!